Pain and Injury Experts in Exeter helping people enjoy active, pain-free lives.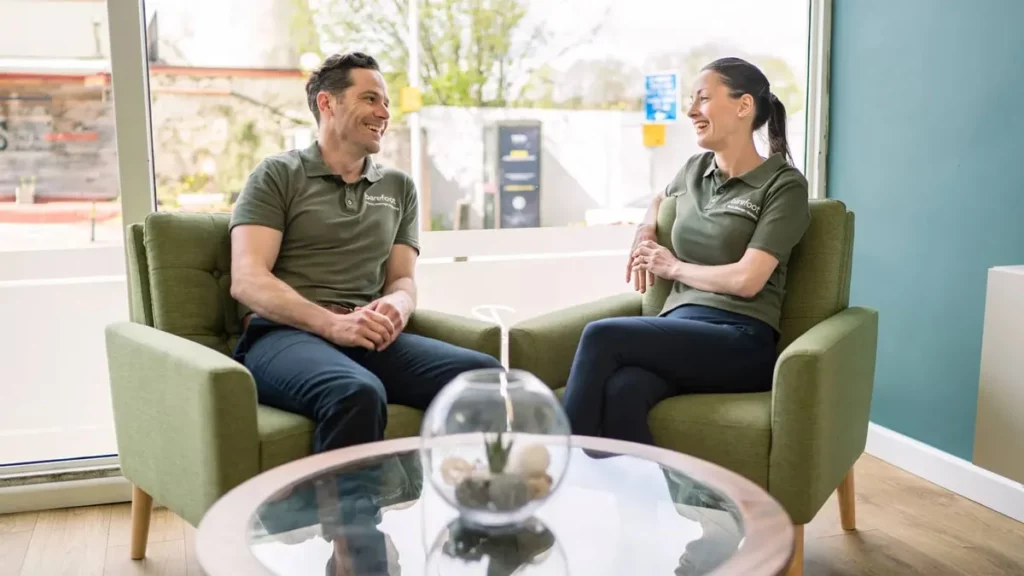 Pain And Injury Experts In Exeter
Barefoot is a clinic focused on excellence both in the way that we treat you and the results we achieve. We provide specialist services for pain and injury, massage and fitness. Our commitment to you is to get you back to doing what you love as soon as possible and support you in your health and wellness journey.
Barefoot is a clinic focused on excellence both in the way that we treat you and the results we achieve.
This place was amazing, put me at ease, very professional, informative, very friendly staff ,i had to bring my granddaughter along as half term, nobody minded her waiting in reception. The lady I saw ( sorry can't remember her name ) Was empathic, patient, put me at ease, most importantly listened to me . Highly recommended.
Angela Crossley
October 20, 2023
When I arrived at the clinic, I was in a lot of pain and could barely walk. Following my 5 sessions with Elly Skinner I have got my life back ! She was so helpful , thorough and patient with her guiding me through the pain and I am now back to walking normally ! I highly recommend Elly !
Martin Chambers
October 16, 2023
Having put up with experiencing pain in my shoulder for several weeks I decided to do something about it. Having arranged an appointment with Barefoot Clinic I was assessed by Rebecca and given some daily exercises to complete. Having completed the exercises on most days I then attended a follow up appointment and it was confirmed that painless mobility had been restored. Top marks for the diagnosis and the appropriate treatment plan.
Bob Deakin
October 12, 2023
I had physio treatment with Barefoot Physio Clinic. I was very pleased with the help and support I received. The staff are friendly and professional. Thank you.
Jordan Hewitt
October 9, 2023
I damaged my shoulder during lockdown and it had been giving me trouble when sleeping or lifting things. I started working on my physical health in 2022 and felt my shoulder pain/lack of mobility was holding me back. I had tried a few chiropractic sessions that hadn't really helped and when I spoke to my PT he recommended seeing James at Barefoot. At my first session James thoroughly assessed me and identified the cause really quickly. He gave me some exercises to do for the next 4 weeks and also gave me access to a great app that let me watch videos of the prescribed movements. I used the app to track progress and message James about anything I wasn't sure of which was really useful. We had a follow up after 4 weeks and there was a noticeable improvement in my mobility and a reduction in the pain I had been experiencing, almost to the point of it not being an issue anymore. James had helped me do in 4 weeks what a chiropractor couldn't do in 8. He didn't leave it there though, as he gave me follow up exercises that I could continue with and he seemed to genuinely care about helping me to achieve good physical health. Really personable service and he knows his stuff! You won't be disappointed and he'll genuinely help you.
Lindsay Lucas
October 5, 2023
I had been to quite a few physios previously for my knee but I was always given the wrong advice & diagnosis. I started sessions with Elly in May after dislocating my kneecap quite badly. I couldn't walk & I was in lots of pain. By this point I had made the decision not to play football anymore as it was too painful and my knee was too unstable. After spending the summer rehabbing with Elly's programme I've gone from being unable to walk to now playing the highest level of women's football in Wales. I seriously can't describe how grateful I am. I would 10000000% recommend this place to anyone who is having injury issues.
Liz Norvill
October 2, 2023
Following a car accident I was in pain with anxiety and sleepless nights. I was given a simple exercise programme focusing on the specific problem areas and with just two sessions felt such a huge difference, it was wonderful. Thank you
Cath Cottingham
September 29, 2023
referred by employer following surgery. Elly was understanding and empathetic to my needs and availability and formulated a rehabilitation programme which was expanded as the sessions progressed. She was realistic in setting achievable targets and the app worked well. would self refer without a doubt if i ever had to. many thanks.
Michael Baker
September 20, 2023
I attended Barefoot, Exeter for a shoulder rotator cuff tear where I had very limited movement and lots of pain. I was treated by Elly Skinner and she was fantastic, she started me off with some very small exercises and built them up slowly over the weeks. She managed to improve my mobility and reduce the pain massively. She has a really lovely and kind nature. I will definitely use Barefoot again, if needed, and have been recommending them to my colleagues. Thanks again Elly you're a star!
Naomi Gerring
September 18, 2023
We have two clinics in Devon – Exeter and Bovey Tracey. Find out what services are available at each of our clinics by clicking below.